UTBM offers a high level,
5-year engineering degree course (300 ECTS)
. The first two years of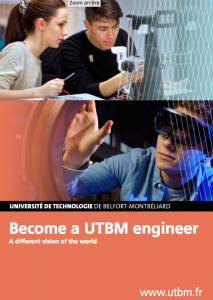 studies called the foundation level (preparatory cycle) provide not only the scientific and technical skills needed to form a sound basis for engineering training, but also a significant appreciation of human sciences.
You can enrol at UTBM at any level throughout the five year program, from your high school diploma (Baccalauréat) onwards.
You may also opt for an engineer diploma (Engineering cycle – three-year course).
UTBM also offers four different Masters (one professional and three research degrees) and is jointly accredited with the University of Franche-Comté to deliver PhDs.
UTBM has set up several different dual diplomas with different universities across the globe.
The dual diploma program allows the selected student to get a UTBM diploma as well as a foreign degree at one of our partner universities. Depending on the program, the UTBM student will spend the last year of his/her studies in the foreign university, thus validating both trainings. For some courses, the student will have to spend an extra semester in the host university to be able to graduate
China
Students from these partners can apply for a dual-diploma : Bachelor (home university), then Engineering diploma (UTBM) :
Taiwan
Prepare a dual Master in Computer Science :
Spain
Prepare a dual diploma : Máster en Ingeniería Industrial (EPI Gijón) and diploma in mechanical or industrial or energy engineering.
Switzerland
Students from HE Arc can apply for a dual-diploma : Bachelor (HE Arc), then Engineering diploma (UTBM).
Canada
Prepare a dual Master with our Canadian partners :
Colombia
Prepare a dual Master with our partner in Colombia :